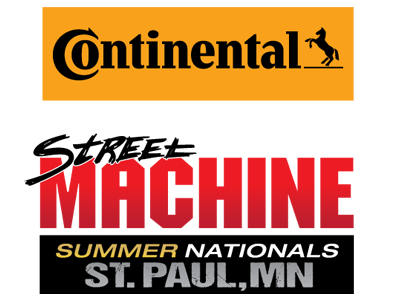 STREET MACHINE NATIONALS // ST. PAUL, MN
(DATE CHANGE): July 21-23, 2023
THE BIGGEST MUSCLE CAR PARTY OF THE YEAR
The Street Machine Nationals will feature stunning high-performance street machines, hot rods, street trucks and the best dream machines from coast-to-coast, all on display. In addition to the cars, the Performance Marketplace will showcase products and services from industry leaders, many offering special show-pricing.
BECOME A SPONSOR
SCHEDULE OF EVENTS COMING SOON
Scooter Rental
The Street Machine Nationals is a show the Street Muscle Magazine team looks forward to every year because we know there will be some of the best and baddest hot rods the midwest and the whole country has to offer.
COVID Safety Precautions - Know Before You Go: St. Paul Street Machine Nationals
In an effort to ensure that the Street Machine Nationals provides both a safe and enjoyable environment for all our guests, participants, sponsors/exhibitors, partners, building and event staff and the local community, a specific set of guidelines have been mandated by the State of Minnesota, Ramsey County and the Minnesota State Fairgrounds. These guidelines will be enforced throughout the event and cooperation from Street Machine Nationals vendors and attendees is paramount to ensuring that the event is able to continue as planned. The guidelines are as follows:
All guests will be required to have a face mask to enter the fairgrounds
All guests will be required to wear face masks at all times while walking around the show
All guests must practice social distancing
Extra cleaning of common areas and bathrooms will be conducted
Soap and hand sanitizer will be available
Staff will have appropriate safety practices in place including face masks, face shields, and other precautions
Bonnier Events ensures that adjustments will be made to any additional mandates from the Minnesota State Fairgrounds and any problematic areas at the event
Any guest who has been in contact with someone who has tested positive for COVID-19 within the last 21 days is asked to stay home.
Any guest who is concerned about their safety, has underlying health concerns or is showing any possible symptoms is highly encouraged to wait to participate in another of our events in the future and not attend the Street Machine Nationals at this time.
Bonnier Events appreciates your cooperation during this unprecedented situation to protect the health and safety of our attendees, participants, exhibitors and staff.
Minnesota State COVID Update:
Beginning May 7, 2021 at 12 p.m.


Indoor social gatherings are limited to 50 people, outdoor social gatherings have no maximum group size.
Beginning May 27, 2021, at 11:59 p.m.


No limits on size and no social distancing requirements.
Become a Sponsor or Vendor
Event sponsors and exhibitors benefit from a full marketing and PR campaign that generates millions of consumer impressions. Start connecting with the right audience today...we can show you how.
Already a Sponsor or Exhibitor? Request access to our resource link for to move-in times, forms & info
Vendor & Exhibitor Resources